Payment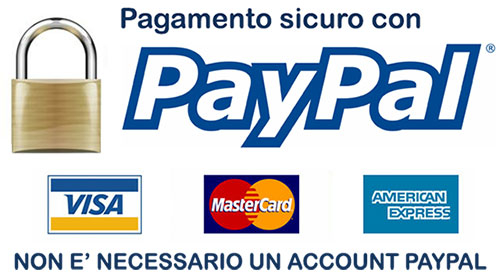 PayPal
PayPal is the safest, easiest way to pay and get paid online. The service allows anyone to pay any way they prefer, including credit cards, bank accounts, buyer credit or account balances, without sharing financial information. PayPal has quickly become a global leader in online payment solutions with more than 153 million accounts worldwide. Available in 190 markets and 24 currencies around the world, PayPal enables global ecommerce by making payments possible across different locations, currencies, and languages.

Payment by Credit Card
We accept Visa, MasterCard , American Express, etc... through PayPal (you don't need a PayPal account). Your data will be transferred to us via a secure SSL connection.
Your credit card details will not be recorded by Vintage-Sunglasses-Store.
We will charge your credit card immediately after your order.

Bank Transfer
When paying by bank transfer the goods will be sent only once the amount is visible on our bank account:
BENEFICIARY: QUARTA GIOVANNI
SWIFT CODE: BCITITMM
IBAN: IT74 A030 6967 0171 0000 0000 241
BANK: INTESA SAN PAOLO
The cause to write in the transfer has to indicate name and surname of the ordering person.
As far as the bank system works, the amount is accredited on the account of Vintage-Sunglasses-Store in 3/5 workdays since the date is realized.
If within 10 days since the order we will not receive the payment, the order will be eliminated.